Dear Team Managers, School Coordinators, Officials, and all,
Our 2020-21 DI Timeline has been formulated by DIHQ to include all aspects of a competition – from paperwork, to explaining details to appraisers. Please mark your calendars, share the timeline with all Team Members and their families, and enjoy the ride. This is new to everyone world-wide. We will all get through this together!!
We will all have questions along the way. If Steffenie, Scott or I cannot answer them, we will find someone who can. We look forward to helping our teams succeed and learn amazing new problem solving skills!
All the best to each and every one!!
Kim Bejot – Co-Affiliate Director
Tournament Timeline
November 1st, Challenges released will be: Technical, Scientific, Fine Arts, Service Learning, Rising Stars. The other two will be available soon after that.
Tournaments
All TC and IC will be pre-recorded.
All will be submitted to a central location through the Resource Area and will be in You Tube format.
All team paperwork will also be uploaded to the Resource Area.
All will be appraised Virtually.
There will be more information on how to do this at the appropriate time.
Appraising at a Virtual Tournament
Challenge Masters will create a group email so they can communicate, answer questions, discuss special awards, etc.
The Appraisal Team will come together virtually before they Appraise the Team Challenges.
All Appraisers assigned to an Appraisal Team will complete the online trainings.
Appraisal Teams can view together and score together or score on their own time without the other Appraisers. Deadlines are not negotiable.
Teams will have an additional video where team members will explain general questions that most Appraisers ask.
All Appraisers will appraise using Mobile Scoring. All Appraisers will need access to a device (laptop, etc). Training on Mobile Scoring will be available in December.
IC and Improv Unknown Release Dates:
Improv Unknown
Unknown #1 1-22-21 1-25-21 Nebraska teams will use this for practice only and NOT submit online.
Unknown #2 2-12-21 2-15-21 Nebraska teams will use this for practice only and NOT submit online.
Nebraska teams will use the following IC/Unknown for competition and will submit online as directed.
Official Instant Challenge will be released on 3-5-21 via DI Resources at 2 am CST, submission due on 3-8-21 at 11:59 pm Local Time.
Official Improv Unknown will be released on 3-12-21 via DI Resources at 2 am CST, submission due on 3-15-21 at 11:59 pm Local Time.
For every Team Challenge, there will be one Instant Challenge. ICs will have 3 lists, to include Connectors, Controllers, and Extenders. Teams will choose from the lists of materials given and use those materials in solving their IC, either in person as a team, or virtually.
Nebraska Destination Imagination Tournament Timeline:
updated 1/15/21
Competitive Instant Challenge #3 Released March 5 @ 2:00 am CST/Due March 8 by 11:59 CST
Improv Team Challenge Unknown #3 Released March 12/Due March 15 by 11:59 CST
March 8th Instant Challenge Paperwork submission deadline by 11:59 pm CST
March 9-15 Instant Challenge Prep Appraisers review paperwork from each team so they know everything is submitted correctly.
March 16-18 Instant Challenge teams fix issues noted from Prep Review
March 19th by 11:59 CST Team Challenge submission deadline including paperwork
March 19-27 All Instant Challenges Appraised
March 20-21 ALL Team Challenge Prep Appraisers review paperwork from each team they are assigned
March 22-23 ALL Team Challenge teams fix issues in Prep Review
March 24-27 ALL Team Challenges Appraised
March 27 ALL Raw scores posted
March 29 Appeals Deadline
March 31 Dialogues completed
April 1 Special Awards nominations deadline
April 2 Special Awards determined
April 3 Final Scores reported and posted/Awards Video Posted
2020-2021 RESULTS!
FINAL STANDINGS:
CONGRATS TO ALL TEAMS ON A GREAT YEAR! SO PROUD OF EACH OF YOU!
GLOBAL FINALS 2021!!!
Destination Imagination is excited to officially announce that Global Finals 2021 is going to be entirely virtual! We know that our 2020-21 teams were excited about the possibility of getting together in-person; however, after thoughtful discussion and consideration with many community members and keeping in mind what is best for our most important asset – our teams – we have made the decision to transition the event. But rest assured, we are ready to knock our teams' socks off with all the great things we have planned.
Three Reasons Why
Global Finals 2021 Will Be Amazing
Global Competition with a Twist!
Teams will compete globally and have their Team Challenge solutions scored by Appraisers from all around the world. In lieu of our traditional Instant Challenges, teams will use their creative and quick-thinking skills to compete in a brand-new, EXCLUSIVE Fast Flex Challenge. Think your DI journey is over? It's not! Our Global Finals Fast Flex Challenges are based on the themes of this season's Team Challenges. Each team's Fast Flex Challenge solution will receive a score and will contribute to the team's overall score for ranking. You'll need to flex your creative muscles and solve your Challenge in two weeks or less!
Learn the Skills of TomorrowCreativity, critical thinking, and complex problem-solving three of the most sought-after skills in the workplace. But with the pandemic, newly emerging skills such as active learning, resilience, stress tolerance, flexibility and technology use are also topping the list. Teams participating in Global Finals 2021 will have the opportunity to learn the skills of tomorrow by collaborating with their teammates to solve our brand-new Fast Flex Challenge and to showcase their Team Challenge solution—all while having fun!
On Demand: Starring YOU!Our digital event will enable teams to share their Team Challenge solutions with audiences from around the world. Tune in on your own schedule to cheer on teams you know, and discover more about teams you don't know!
As much as we all wanted to be together, we are confident that taking Global Finals 2021 virtual is in the best interest of our participants, their families and our volunteers. We are excited to offer this creative and safe learning experience and we promise that those who decide to join us will not regret it. We wish our 2020-21 teams luck as they enter the final stretch of the 2020-21 Challenge season!

Stay tuned for more details about the 2021-22 Challenge season. Questions? Email us at AskDI@dihq.org.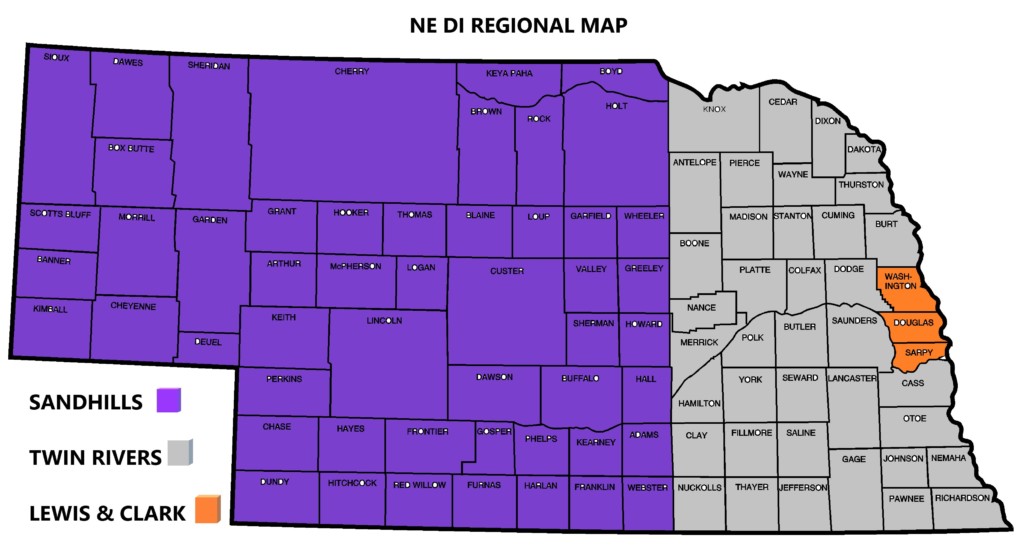 SANDHILLS REGION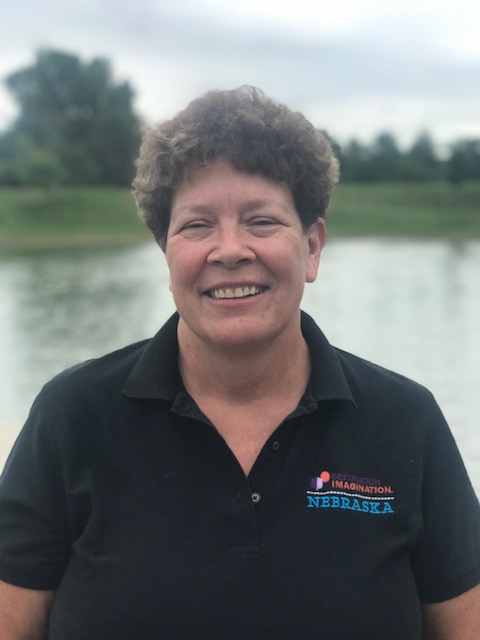 Contact:
Donna Robinson: email
---
Sandhills Team Manager Training
---
Sandhills Appraiser Training
TWIN RIVERS REGION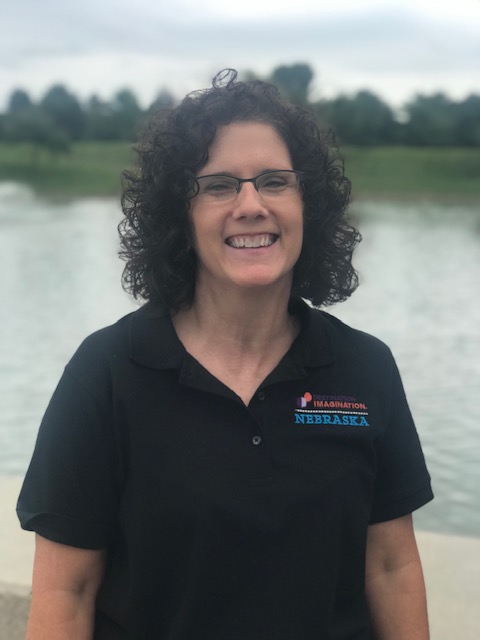 Contact:
Connie Powell: email
Twin Rivers Team Manager Training
Twin Rivers Appraiser Training
LEWIS & CLARK REGION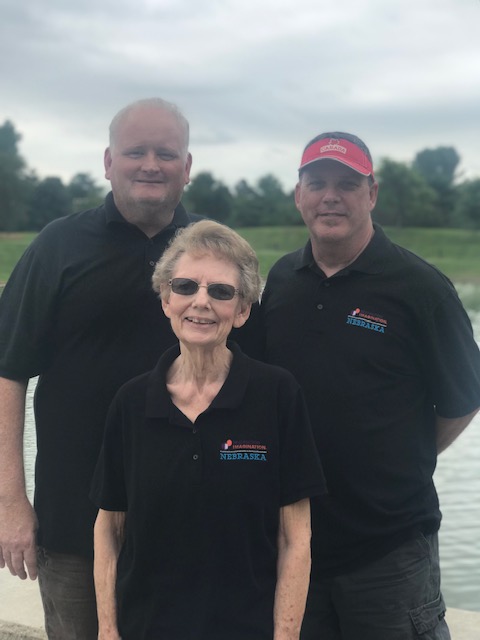 Contacts:
Scott Goodman: email
Judy Hansen: email
L&C Team Manager Training
February 6, 2021 from 9 am to 11 am
Join Scott via Zoom for the latest and greatest! Bring your questions!
Nebraska Destination Imagination is inviting you to a scheduled Zoom meeting.
Topic: LEWIS AND CLARK TEAM MANAGER ROUND TABLE
Time: Feb 6, 2021 09:00 AM Central Time (US and Canada)
Join Zoom Meeting
https://us02web.zoom.us/j/87095029118?pwd=MmxHdGYrc0VYRVFaNnljdFA2dFpWZz09
Meeting ID: 870 9502 9118
Passcode: 954436
One tap mobile
+13462487799,,87095029118#,,,,*954436# US (Houston)
+16699006833,,87095029118#,,,,*954436# US (San Jose)
Dial by your location
+1 346 248 7799 US (Houston)
+1 669 900 6833 US (San Jose)
+1 253 215 8782 US (Tacoma)
+1 312 626 6799 US (Chicago)
+1 929 205 6099 US (New York)
+1 301 715 8592 US (Washington DC)
Meeting ID: 870 9502 9118
Passcode: 954436
Find your local number: https://us02web.zoom.us/u/kMLBXnRfj
---
L&C Appraiser Training