*************************************************
Region Map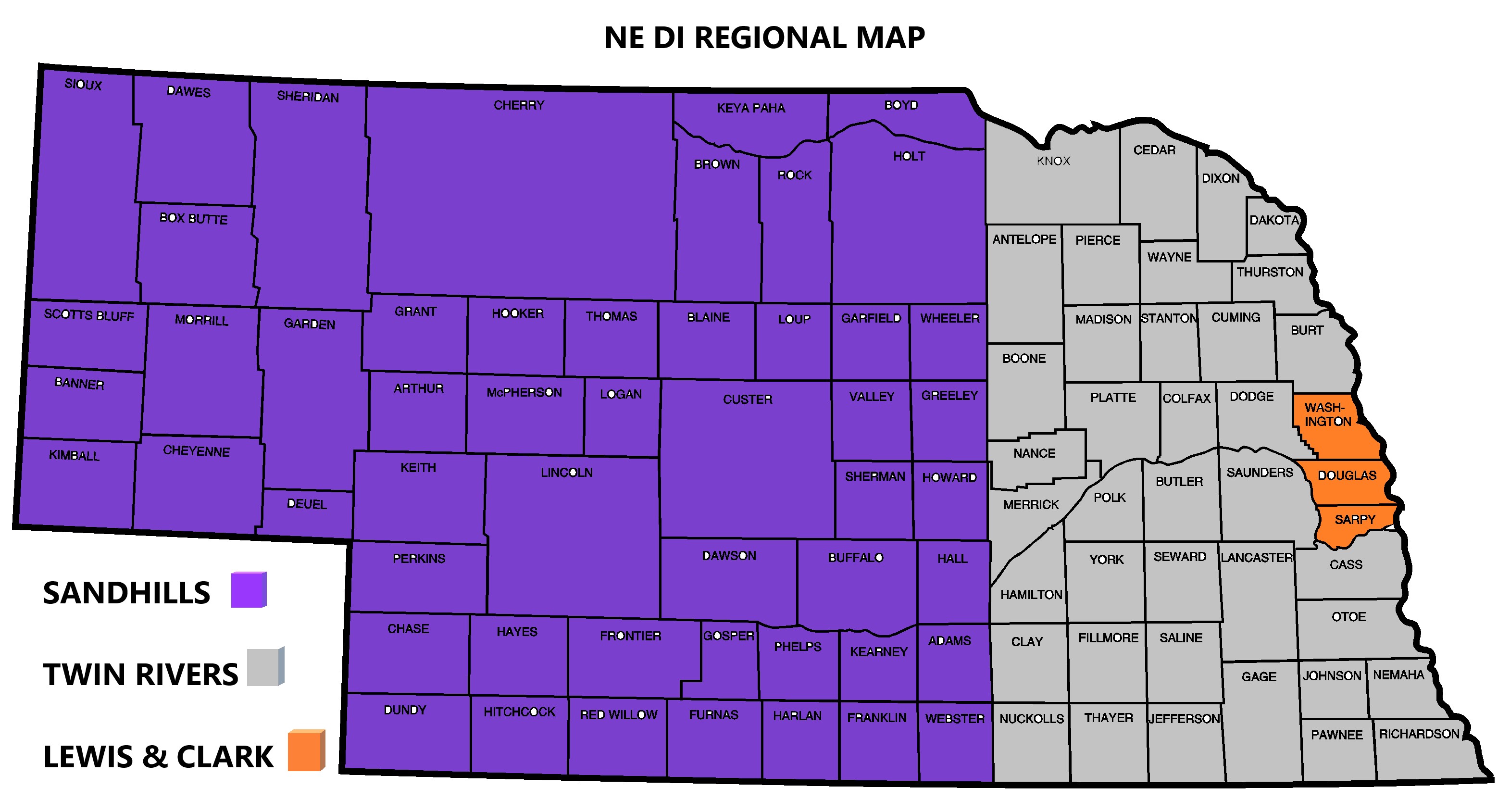 *************************************************
ALERT:

With the spread of Coronavirus 2019 (COVID-19), Nebraska DI Board of Directors has been struggling to make a decision on hosting our Affiliate Tournament. It is in everyone's best interest to prioritize the health and safety of the Destination Imagination community.  Today we received the following:   It is the recommendation of DI HQ to not hold any public events.  In addition, DI HQ does not recommend full-scale "virtual tournaments" at this time. There are concerns about protocols, logistics, resources, and consistency across tournaments with such a short planning timeline.

Keeping our current situation in mind, the Board of Directors has determined the need to cancel our 2020 Affiliate Finals which would have been held March 28th at University of Nebraska-Kearney. 

At this writing, DIHQ intends to hold Global Finals 2020 in Kansas City from May 20-23 as planned. However, with the rapidly changing public health situation, that plan is subject to change.

DI HQ will open Global Finals 2020 to all certified teams in Nebraska that advanced from their Regional Tournament to NE DI 2020 Affiliate Finals, giving them the opportunity for a culminating tournament experience.

Since we are unable to hold our Affiliate tournament, the certification process will be completed by March 28.  Team Managers will receive an email invitation if your team has been certified to advance to Global Finals.  A link will be provided for Team Managers to declare your interest in attending.

 

Any questions on Advancing to Global Finals will be answered after MARCH 28- Please email Kim Bejot:  NEDIAffDirector@gmail.com

***********************************************************************************************************
GLOBAL FINALS IN KANSAS CITY UPDATE!!!
Global Finals is the culminating event of every Destination Imagination season.
DI teams that advance past Regional and Affiliate (state/country) Tournaments are invited to participate in Global Finals—the world's largest celebration of student creativity. In May, 1,100+ of the top-scoring DI teams from 45+ U.S. states and 14+ countries will gather in Kansas City, Missouri to showcase their innovative Challenge solutions. More than 17,000 people attend the event each year. The scheduled festivities include the Destination Imagination Tournament, interactive exhibits, pin trading, skills workshops, international events and more.
GLOBAL FINALS 2020 ANNOUNCEMENT:
It is with heavy hearts that we are announcing the cancellation of an in-person Global Finals event in Kansas City, Missouri for this season of Destination Imagination (DI) We made this decision based on guidance from the World Health Organization, Centers for Disease Control, state and local health officials, states of emergency that have been issued across the globe, the ever-expanding travel restrictions for schools around the world, and in light of the global developments over the past 48 hours.
However, we are excited to announce that we will be hosting a VIRTUAL TOURNAMENT. We are currently working on logistics for this event and we will be sharing information as it is finalized in the next couple of weeks. There will be a cost to participate in the Global Finals 2020 Virtual Tournament, but the cost will be significantly lower than traveling to Kansas City. Do NOT throw those props away!
The Global Finals 2020 Virtual Tournament will be open to ALL Destination Imagination teams. This includes any teams that did not get a chance to compete in their Regional or Affiliate Tournaments, as well as teams that have already competed at a tournament, regardless of the results of that tournament. Since this is a brand new experience for all of us, we want all teams to have the chance to showcase their work.
The Global Finals 2020 Virtual Tournament dates will not coincide with the original Kansas City dates (May 20-23). The submission timeline will be spread out over the summer. We do not have those exact dates planned out at this moment, but we hope to have more information on that soon.
There have been many questions in the past week regarding postponing Global Finals 2020 to a later date. Planning this large-scale, annual event takes a full year to complete and it is impossible for us to move it to a later date. It's not that we didn't want to postpone or that we didn't try; it's that we do not have that option.
As we said before, we are in unprecedented times. There are a lot of logistics to work out. We also know you have a lot of questions. We thank you for your patience as we work through these details and logistics. Questions will be answered and details will be communicated to our entire DI family as soon as they are available.
Stay healthy, stay creative,

Michele Tuck-Ponder
Executive Director
Destination Imagination, Inc.
Global Finals in Kansas City was a success!  See you there in 2020!
**************************************************************************************************************
New and Different requirements for Appraisers!  Please read very carefully!
Appraiser Policy: updated 8/10/19
Nebraska DI requires each team to provide a minimum of (1) Appraiser to attend Training, and to participate at their Regional and Affiliate Finals Tournaments. NO EXCEPTIONS!
AFFILIATE FINALS IS MARCH 28TH, 2020 IN KEARNEY, NEBRASKA.
It is highly recommended that each team also have an additional trained, participating Appraiser.  This will ensure that our tournaments are adequately staffed.  Teams that do not provide a trained, participating Appraiser may be subject to penalty, to be determined by Tournament Directors.
If your team does not advance to Affiliate Finals, your Appraiser's participation at Affiliate Finals is optional, though greatly appreciated.
All Appraisers must complete mandatory face-to-face training each year.
It is the responsibility of the Team Manager to recruit at least one volunteer to serve as an appraiser for each team they manage.  Choose carefully as Appraisers will not be allowed to leave assigned post to watch any performances throughout the tournament day.  Appraisers must be able to turn off cell phone during performances–please do not recruit anyone that would be "on call" for their employment.  They are not allowed to leave during performances to ensure scoring consistency.
All Appraisers must be finalized and registered by January 15, 2020 on registeryourteam.org, NO changes after this date will be allowed.  After registration is closed and the Appraiser(s) are finalized, they will receive an email within 7-10 days with a link to Verified Volunteers.  This is a TIME SENSITIVE email.  This application must be submitted within 72 hours and pass the certification process before acceptance is guaranteed to participate in any NE DI Tournament.  If your Appraisers have had a recent background check through another reputable source, please see Affiliate Director for approval.
Mandatory Face to Face Appraiser training will be held in each region after January 15, 2020 and prior to the Regional Tournament.  Additional Online Training information is available.  All Training details will be emailed to each Appraiser and announced on the website and our Facebook page.
If your Appraisers are unable to attend Mandatory training and complete online training, they will not be certified to Appraise at either Tournament.  Both training opportunities (face to face and any related online training) are required for Appraisers to be certified.
Teams that do not provide a trained, participating Appraiser for their Regional Tournament may be subject to penalty, to be determined by Tournament Directors. No Exceptions!
Teams that do not provide a trained, participating Appraiser for the Affiliate Tournament may be subject to penalty, to be determined by Tournament Directors. No Exceptions!
Please choose your appraiser(s) carefully; make sure they understand the appraiser is directly responsible for impacting the team if they don't show up!
We have had to take these steps to ensure we can properly staff our tournaments and ensure scoring is fair and equitable.
Appraisers will be given an official badge and shirt to wear at Regional Tournaments and if the team advances, to Affiliate Finals.  Badges and shirt must be worn at all tournaments and be visible to adhere to the Youth Protection Policy and Procedure.
Team Appraisers do not appraise at Destination Imagination Global Finals.
Rising Star teams are not required to provide a team appraiser.
************************************************************************
New Child Protective Policy!
Please review!
Child Protective Policy, please click below!
 All NE DI officials and Team Managers will be required to have credentials (supplied by NE DI) and will be required to wear them at all times during regional and Affiliate Finals.
 Security will also be pronounced at tournaments as NE DI will be proactive in the safekeeping of all participants.
 ***********************************************************************
2020 T shirt and Pin Design revealed!
Thank you to Benjamin Wittgow of Stanton Elementary School from Stanton, NE.  His design was chosen for this years T Shirt and Pins for Nebraska!  Benjamin promoted creativity as "Whatever you can Imagine!"
****************
Do you have a great PIN and Shirt Theme idea for next season?
Ready to design?  See below for some things to keep in mind!
Send your ideas to Donna:
Donna Robinson:  donna@jclarknoble.com
See below for things to keep in mind!
Go to this blog and read the latest on how to design a great pin!
https://www.destinationimagination.org/blog/how-to-create-an-awesome-and-legal-pin
Copyright/Trademark Declaration for Affiliate Use 
The use of any Copyrighted or Trademarked art or logos without the written permission of the owner or organization on pins, shirts or merchandise is not sanctioned or condoned by  NCAPS-Nebraska Creative Association of Problem Solvers
***************************************************************